Property Management For New Owners
Village4U Lettings was established in 2009 to fill a gap in the property management sector within the Old Village. We are based in the Old Village and our office is open Monday through to Saturday from 09:30 to 19:00 in the summer months and from 10:00 to 18:00 in the winter months. We are also open on Sundays as required depending on arrivals. We operate an out of hour's service for our rental customers in conjunction with the security personnel in the Old Village.
We pride ourselves in offering our client owners a bespoke service covering all aspects of owning and running a property in the village or surrounding area, these include:
Property preparation & ongoing maintenance:
Our property renovation is to a very good quality using locally sourced products. We always use respected and known builders and work to an agreed plan and within a budget as specified by you.
We will plan the works to make sure the property has all the correct items for obtaining the correct licences and certification for energy and rental. We will also arrange the decoration and internal furnishings of the property. During the life of the property there will always be a need for simple maintenance which we will arrange and supervise. We will provide all the project management and co-ordinate all aspects of building, renovation and maintenance work, using our network of highly professional contractors and suppliers based in the local area.
Property rental:
We will photograph the property to provide its maximum kerb appeal to potential rental customers. The property will be advertised through our extensive network of travel agents and online booking suppliers. We will look after all aspects of the rental from the initial enquiry all through the customers stay to check out. We find that many of our customers come back to the village and often request to stay in the same property. We will work with you to fill in any unallocated gaps if you wish to rent the property yourself.
Client account management:
Our office will open an account with you to deal with all aspects of looking after your property. We will also arrange to pay all the ongoing bills associated with running a property such as Water, Electricity, TV, Telephone, Taxes, Rates, Insurance and Condominium from your account.
We will provide you with regular accounts on the cost of running the property which includes all the outgoing expenses and all the income generated by the rentals we provide We provide on a regular basis e-mailed account statements however during the high & peak seasons these are not readily available due to the volume of guests in the village.
We also provide bank transfers from the property account to your own bank account either here or in your home country any time they are requested as long as there are enough funds in the account (taking into account the necessity of a float).
Property status reports are provided back to you when the weather turns bad especially in the winter. We will do a heightened regularly check your property during this period.
Also, we pick up all sorts of other queries relating to the property such as licences and certificates that are required due to governmental regulations.
Essentially our contact with you is constant throughout the year.
We offer three levels of service; these may be tailored to fit in with your requirements:
Level 1: Key Holding – Consists of the following:
Services to manage administer and safeguard the property, this includes key holding where the keys are stored in a secure key cabinet.
The total annual cost for all the above is 142 Euros + IVA*
Level 2: Bill Paying – Consists of the following:
All as Key Holding above.
Including all matters as per Level One plus, if required by you, the settlement of invoices for private or public services, namely: water, electricity, television and telephone supply, and liaison with your tax and fiscal representatives here in Portugal.
Preparing the property for your own use before arrival and providing cleaning & laundry when you leave.
There is no marketing or rental guest provision by us of your property.
The total annual cost for all the above including key holding is 225 Euros + IVA*
Level 3: Marketing – Consists of the following:
Includes all matters as per Levels One and Two, plus the photographing, advertising and marketing of the property online and with travel agents. Dealing with all the stages of a rental from the initial enquiry through to check out of the guest. Essentially an all-encompassing rentals service.
Any rental income provided through us incurs a commission of 29% + VAT. There is no additional annual charge for Level Three which is only available in conjunction with Level Two.
A float of 80 Euros is required to pick up any unforeseen expenditure for Level 1 and a float of 500 Euros is required for Levels 2 or 3.
Below are our charges for laundry and cleaning for any occupancy in your property using our supplied laundry (bedding & towels). If you wish us to use your own laundry, we will charge your account 4 Euros per kilogram instead. Due to COVID restrictions we now have to launder every soft covering.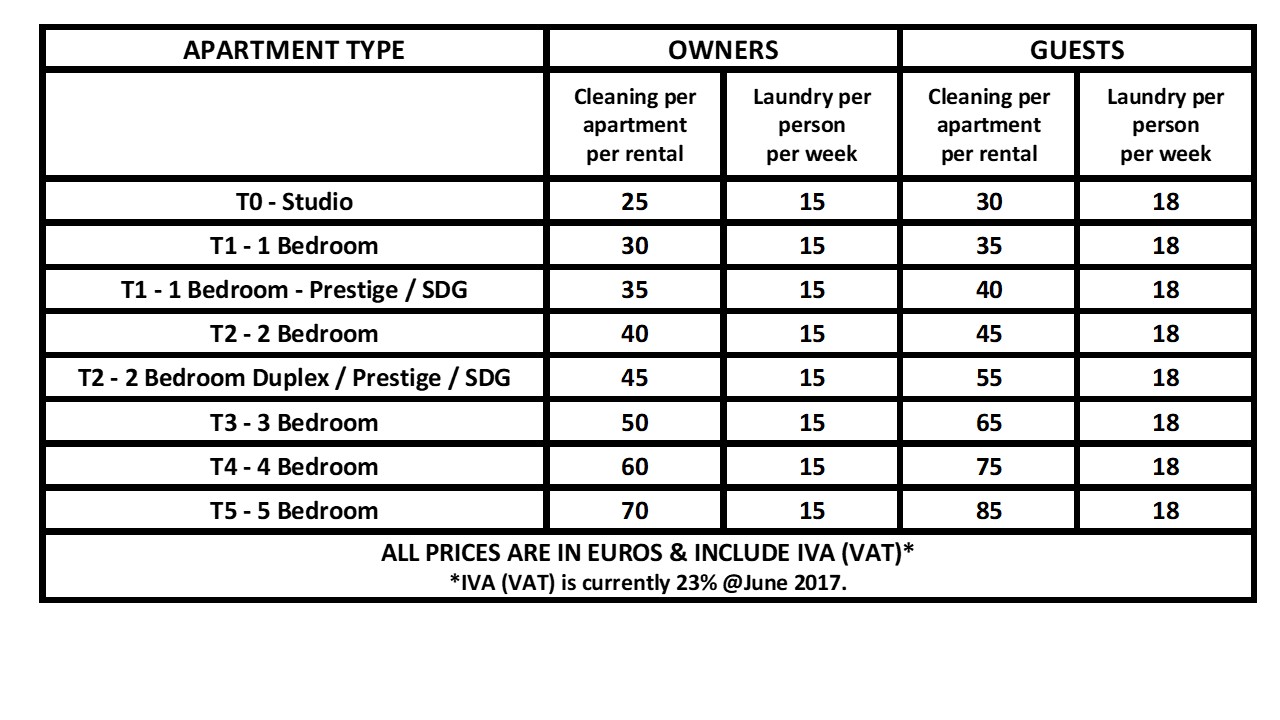 If you have any queries or wish any kind of service, we haven't specified above please let us know as all our clients are individuals and require different offerings.
We look forward to hearing from you.